Internship Experience in US Wineries
Using  Miljenko Grgich Endowment Fund, CSF provides financial assistance to a small number of students enrolled in the Master's Degree program majoring in Viticulture and Enology at the University of Zagreb to come and spend four months as an intern at one of the wineries in the United States.  The goal of the endowment fund is to help Croatia become world class wine producer!
CSF is pleased to announce that once again we are able to provide internship experience to four students at the wineries in California. These students are enrolled in a Master's Degree Program at the University of Zagreb majoring in Viticulture and Enology. The funding for the internship is secured through Miljenko Grgich Endowment Fund established with CSF five years ago and administered by CSF.
This year, interns Ena Bestulić, Lucija Denona, Martin Kovačević and Lucija Kužir, will spend 3-4 months in California wineries during the harvest season, grape crushing period, and early stages of wine production. We hope this experience will enrich their professional skills and that they will be able to bring this newly learned knowledge and contribute to winemaking industry in Croatia!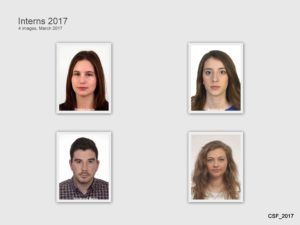 In 2016,  three  students were selected for Miljenko "Mike" Grgich internship program. Sara Rossi, Kristina Novak and Josip Prekratic will spend four moths working and gaining valuable experience during the harvest season and early stages of wine production at three wineries located in the Northern California.
We wish the three students the best of luck in their internship and hope that the knowledge they gained during this time will enhance their professional careers and contribute to Croatian wine making industry.

2016 interns Sara, Josip and Kristina
In 2015  interns, Mare Miosic, Matija Leskovic and Iva Sikuten,  spent 3-4 months at Cakebread Cellars in Napa valley and Ferrari-Carano in Healdsburg, CA during the harvesting season, grape crushing period, and early stages of wine production. We hope that this experience has enriched their professional skills and that they will be able to bring this newly learned knowledge in wine production and apply it in Croatia!
In  2014, Petra Balažić, Daniel Božac and Marina Šeparović were selected as interns. Petra and Marina interned at Opolo Vineyards in Paso Robles and Daniel at Cakebread Cellars in Napa Valley. The three interns worked at wineries during the harvest time.
Bellow is the report from one of the students.
My experience as a winery intern at Opolo vineyards – Fall 2014
Hi, my name is Marina, I come from Croatia and this year I had the opportunity to work as a winery intern in Opolo Vineyards. I worked there for 3 months, during the busiest season of the year- the harvest, and I have to say that it has been truly the best 3 months of my life.
Opolo Vineyards is the winery located in Paso Robles in California. With about 280 acres of vineyards and the production of about 80,000 cases per year, they are one of the best family owned wineries in the area. Home to 12 different varieties- Cabernet Sauvignon, Merlot, Pinot Gris, Tempranillo, Syrah and award wining blends, they are mostly recognized by their Mountain Zinfandel.
I started in the vineyard, collecting grape samples and doing the basic laboratory analysis- sugar, acidity and pH measurements, to estimate the perfect timing for harvesting each variety. Day by day I was getting more familiar with the cellar work and in short time the other interns and I started to work there full time. At the days of harvest we were assisting in the grape crushing and destemming. Other days our job was handling the pre-fermentation, fermentation and post- fermentation tasks on the red and white grapes and wines, such as punch-downs and pump-overs, monitoring sugar and tank temperature, shoveling tanks and moving the wines in and out of the press, racking, barreling down and preforming cleaning and sanitization of tanks and equipment. I participated in preparing different kinds of additions- bentonite, tannins, yeast and yeast food, etc. Some days I had the opportunity to work in the laboratory and to learn how to measure volatile acids and sulfur in the wines.
I want to take this opportunity to thank Croatian Scholarship Fund for everything that they did for me and for giving me this opportunity to do my internship in California. I truly enjoyed the time that I spend there, working with the wonderful people, learning a lot and experiencing every day life in the USA. I also want to thank Mr. Quinn, the owner of the winery, for being so helpful this past three months and for ensuring that we have a good time during our internship.
Sincerely,
Marina Šeparović